My T-list seems very typical, but it is a fact that all of these places have been on my travel list for too long. And here is why.
T
1.Country: Thailand
The most typical Thailand-picture seen on the internet. It's almost too clichée for me wanting to experience all of this as well, since it seems like almost everyone I know has been to Thailand. Still, there are so many more things to do there than just beach days and island hopping. Here they are!
-Elephant sanctuaries in Chiang Mai
There are many places in Thailand that abuse these wonderful animals, just for tourist attraction. I don't wanna be that typical tourist who just rides with them in order to take a disgusting selfie. I wanna see what a typical day looks like for an elephant at a sanctuary. I am pretty sure that if I will ever do it, I will probably cry of happiness and cuteness overload :')
There are also a lot of sanctuaries in African countries, India, and other south-east Asian countries.
-Lantern festival Yi Peng and Loy Krathong
I imagine this event to be one of the most magical things a human being can possible experience. It looks so amazing, so divine, other-worldly. I already can't wait till I will finally visit this place one day in the future.
There is also the river version (Loy Krathong) in which candles are released into the river which just looks magical together with the glowing lanterns in the sky. This festival takes place in November eyer year, but there is no fixed date. It always depends on the moon I guess. So I'd make sure to somehow travel around Thailand in November and make sure not to miss this festival.
-Beaches and Bays
These pictures are all from telegraph.co.uk
I would also love to visit the movie set of The Beach, since it looks unbelievably amazing.
Gorgeous!!!
-Wat Rong Khun Temple in Chiang Mai
This must be the most beautiful temple I have ever seen. I have seen a picture of this years ago, and since then, I kept the city of Chiang Mai in my head for a long time.
-Nightlife in Bangkok
From street night markets in Kaoh San Road, to rooftop bars in Bangkok city centre, there is the perfect nightlife activity for every taste.
These would be the main things for me to see in Thailand. Seems like not a lot, but it actually is with all the beaches, the elephant sanctuary and the timing of the festival.
2.City: Tulum
Tulum is, right next to Cancun one of the most popular beach destinations of Mexico. And there is a reason for that, if you look at the picture.
There are even beautiful Cenotes you can swim in <3 Seems like the best place for a vacation.
Cave Cenotes, but also open Cenotes. This one is called Cenote Azul. The one above is called Ik Kil. But there are half a dozen more that you can choose from. What a great matter to choose something :D
In Tulum, there is also a city that can be visited, but if I should ever go to Tulum, I am gonna relax on the beach and jump from Cenote to Cenote. No way my feet will lead me to town when I could lie on the beach all day :D
3.UNESCO World Heritage Sight: Taj Mahal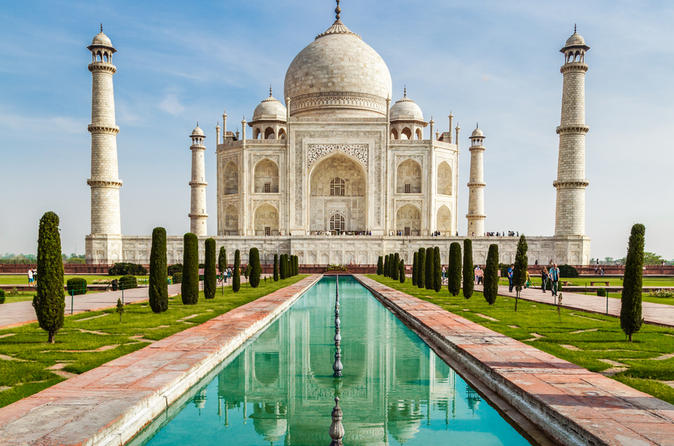 The Taj Mahal is one of the Seven Wonders of the World, and a tomb dedicated to a woman. One of the few monuments in the world that has to do with a woman rather than a man, and that makes it even more beautiful.
If I should one day get to India, I will definitely stop by Taj Mahal, wake up early and try to get the best pictures without the tourist crowds.
What destinations starting with T are on your travel list? Let me know below.
Thanks for reading and travelling with me!
Merveille.