Deciding upon the places this time was quite a hard time for me. There are many but none places that could have been taken into consideration.
Let's begin this confusing blogpost about the letter L
L
1. Country: Laos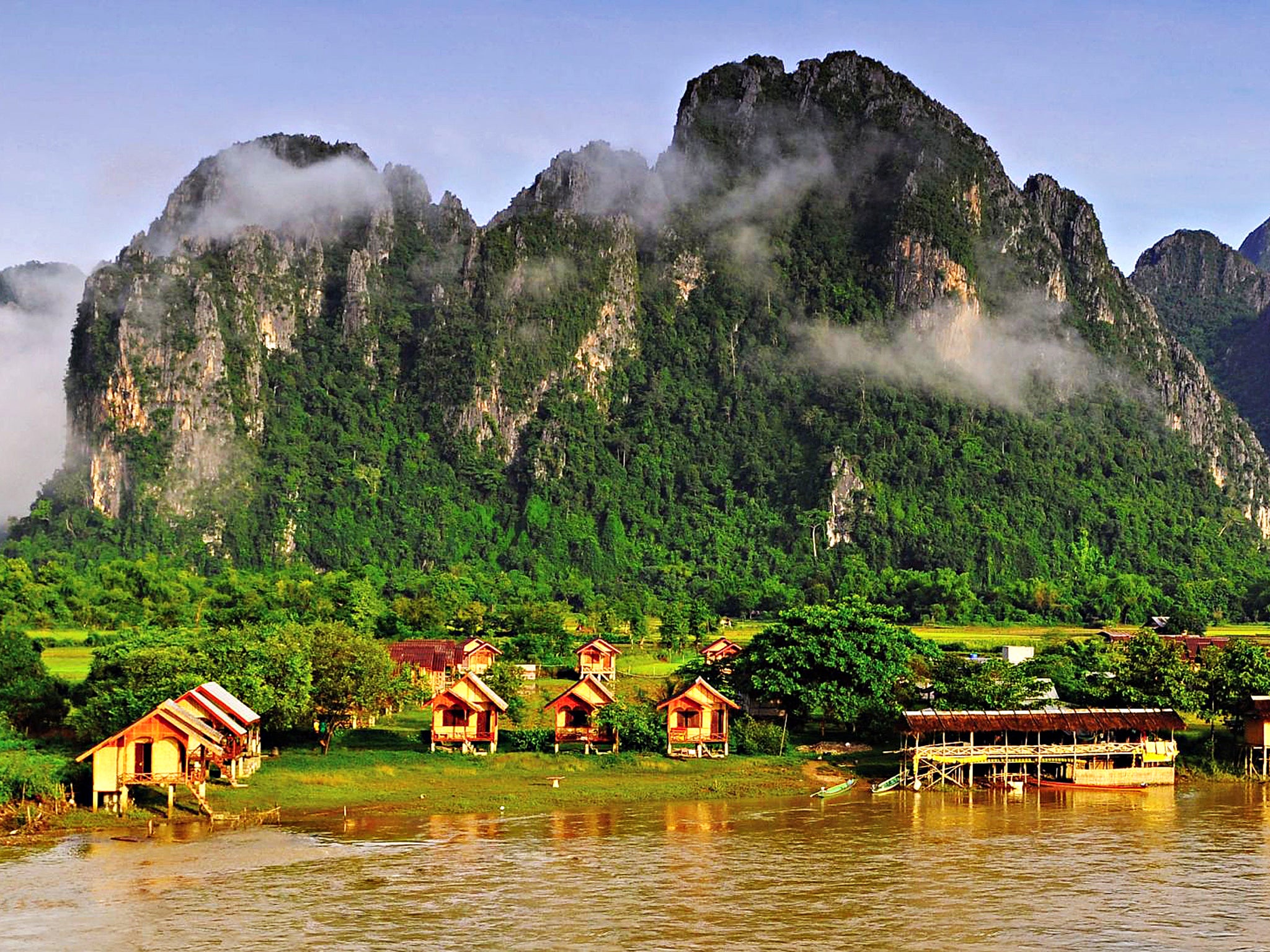 Laos is the place that no one really knows about, but right after seeing a picture of that place, everyone would put that country on the travel list for sure.
Here are some amazing things to see and do in Laos.
-Pha That Luang Temple
You wanna see a golden temple? Go to Laos!
-Buddha Park Vientiane
This park literally looks like out of a psychedelic drug trip :'D And I would love to be part of this.
There is even a huge lying Buddha.
-Patuxai
This is a victory monument, the asian answer to the arc de triomphe in Paris, and its sister in Barcelona.
-Wat Phou
What for visit Wat Phou, you might ask? Well, just because the architecture of these ruins looks just like out of a fantasy movie set à la Lord of the Rings.
-Si Phan Don / Don Det 4000 Islands
Four thousand islands in the river of Mekong. Sounds like a natural wonder, and the pictures surely promise nothing nonetheless.
-Vang Vieng
Okay, that's it!!! I am going to Laos very soon. ASAP!!!
-Ninh Binh City and Nationalpark
This place looks a lot like a painting.
-Wat Si Saket
Laos seems to be the place to be if you wanna experience real Buddhism culture.
This blogpost made me go to Laos even more than ever before. So that's definitely gonna be on my soon-to-visit list.
2. City: Lisbon
I always imagine Portugal to be melting pot of a european Brazil. Looking at this picture, I get major South-American-Mediterranean vibes from this picture.
The first thing I think about when I hear Lisbon is the food. I hear a lot of great, delicious things about protuguese food, but I can't really imagine what it looks and and tastes like. I just realized that I have never tasted it before, since it's pretty hard to find any portuguese restaurants here in Germany, but I would die to try it.
-Mosteiro dos Jeronimos
-padrao dos descobrimentos
Actually, this place looks amazing! I could imagine myself just chilling here the whole afternoon, admiring the view and snapping photos.
-elevador de santa justa
This elevator actually looks super fun!
-palácio dos marqueses de fronteira
The Portuguese answer to Versailles.
-miradouro de santa luzia
What a wonderful, summery cute little village.
And now, I will choose some new dishes to try…
-Polvo à lagareiro (octopus roasted in olive oil)
-Queijo de Azeitão (Azeitão sheep's milk cheese) 
This looks like the best cheese party you can have! OMG I am craving this so much right now!
-Peixe e marisco (Fish and seafood)
I love fish, shrimps and everything that comes out of the sea. And Portugal is one of those countries that eats a lot of seafood as well. Good for me.
-Bacalhau à brás (Scrambled eggs with cod)
I'd probably have this for breakfast every morning…
-Sericaia com ameixa de Elvas (a soft eggy cake and a crystallized plum) 
That would be my dessert, actually, a bit too heavy for my taste.
3. UNESCO World Heritage Site: Lagoons of New Caledonia
New Caledonia is in the Pacific Ocean, north-east of Australia, in the french pacific-area. The remoteness give this place its unique beauty. It is considered as the second great barrier reef in the world, so this place must be a dream for divers.
This was a great end to a great start I'd say. Which of these mentioned places would you like to go to the most?
And which other places with the letter L can you recommend?
Thanks for reading and travelling with me.
Merveille.