Today is the day I am flying to Turkey for a 3-week vacation. And next week Wednesday, on the 14th, I am finally gonna visit the famous fairy chimneys of Cappadocia.
We are gonna stay 3 nights there in probably one of the most amazing hotels, called local cave house hotel:
Here is what I want to see and do in this beautiful place:
1 Hot Air Balloon Ride: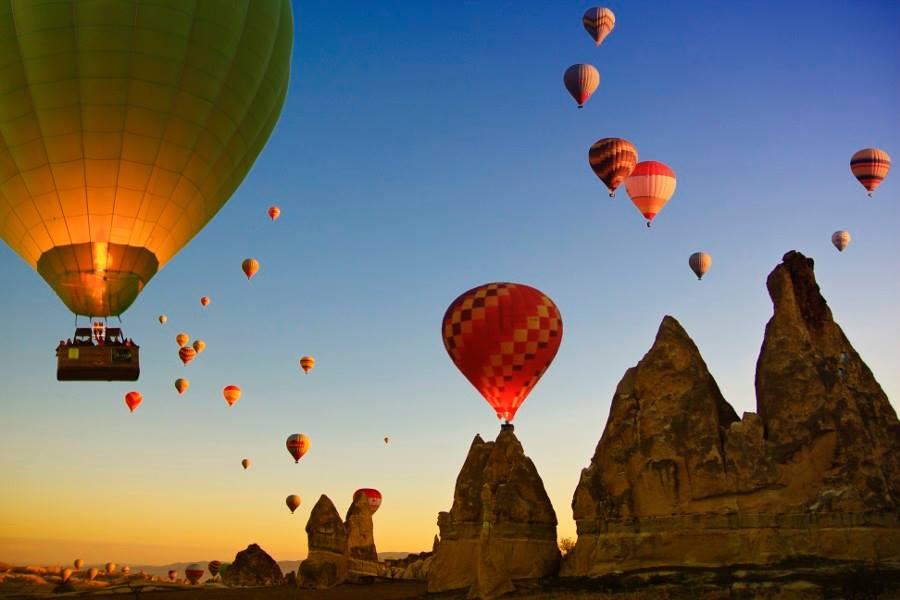 This is something, I have always dreamed of. It looks and sounds so adventurous, at the same time it looks beautiful in the sky and I can imagine to have one of the best views you can get when you think of a hot air balloon ride.
The rides are pretty expensive, I have to warn you, but it takes 1 hour, includes a pick-up service, breakfast, sparkling wine celebration and you even get a certificate.
2 Underground City Kaymakli/Derinkuyu:
These underground cities were built during the time of the Crusaders, where Christians were looking for a hiding place and built these cities in the underground. I wanna know more about them, hopefully when I get there next week. And this is how they look like:
3 Üchisar Castle:
From this ancient stone castle, you can have a perfect view over Cappadocia.
4 Sunset at Rose Valley:
This valley is famous for its red colour and is a nice place to explore.
5. Have a panorama view at Pigeon Valley:
Here, you can't pass by vehicles, so you have to walk and explore everything on foot. There is apparently a panorama view and many typical trees with the evil eye beade decoration. And, of course, many cute pigeons.
6. Open Air Museum and National Park:
I will think about these when I am there and maybe ask the hotel reception about these two sights.
7. Visit a pottery and a carpet shop:
Even if I won't buy anything, which I probably won't because the carpets are especially huge and expensive, I would just like to see all the different varieties of carpets they offer. The potter shops, on the other hand, might be more affordable and I would maybe think about buying one.
8 Watch the whirling dervishes:
In the evening, there are some organized turkish nights, especially for tourists that come from Japan, China or Korea who are interested in this foreign culture. Still, although I am turkish myself, I have never seen the swirling dervishes before, and I would like to experience this magical moment.
I think these are the main things I wanna do in this beautiful place. I am sure it is gonna be different from my prior trips to Turkey. I am already so excited to go back to my second home country and do all these things I have always wanted to.